Countdown Or Countup To The End Of The World---
2005, 2006, 2007, 2008, 2009, 2010… 2011. March 21, 2011 to be precise. The ominous date of this year's Vans Protec Pool Party. In the opinion of some misguided folk, it is the day on which our world will come to a dramatic end via global earthquakes. They just might be mistaking the outburst of seismic energy and chaos that will be unleashed during the 7th annual installment of the most intense skateboarding event in history, for some natural act-of-god style cataclysmic event. You can't blame them, especially when you look back on 6 years of apocalyptic ripping. Back in the late spring of 2005, no one probably imagined this thing would turn into an era unto itself. The re-emergence of hardcore concrete bowl riding as elite-level pro competition. No one could have predicted its lengthy shelf life. Yet the thing is has become an unstoppable juggernaut of raw skateboarding energy that detonates like a hydrogen bomb. So heavy that the pool needed to be completely re-built in 2010 to hold up under the torture of skateboarding's toughest and best.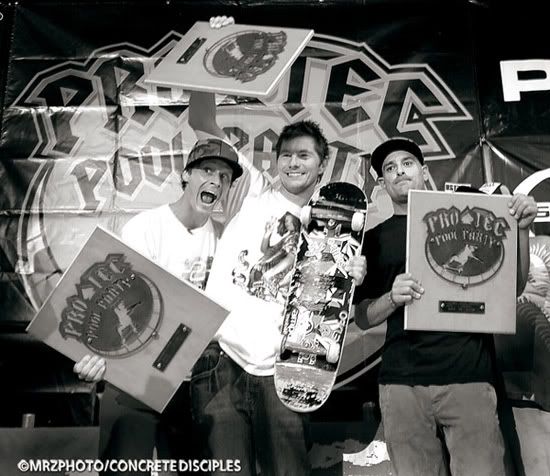 These 3 dudes have been on top since 2007, trading spots by the narrowest of margins. Bucky Lasek, Rune glifberg, Omar Hassan.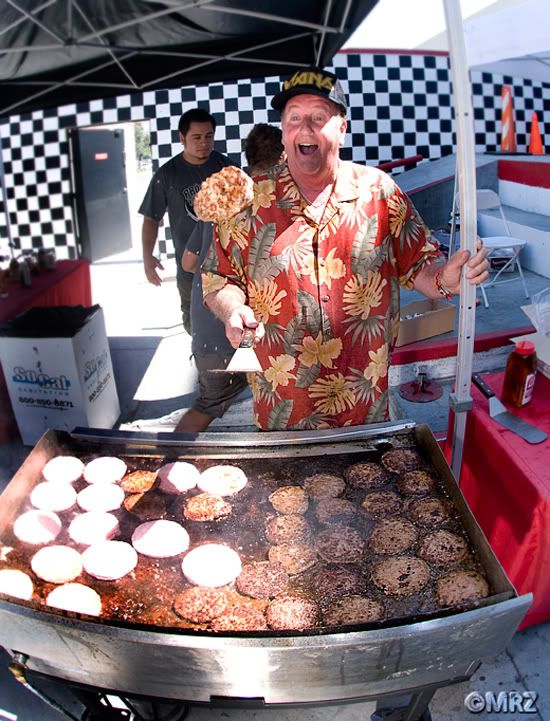 Steve Van Doren feeding the hungry masses.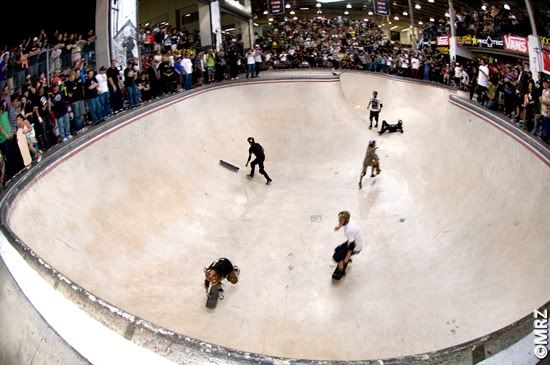 What better way to send an aging pool off to be re-built than to have 6 guys in the bowl at once at the close of the 2009 pro finals?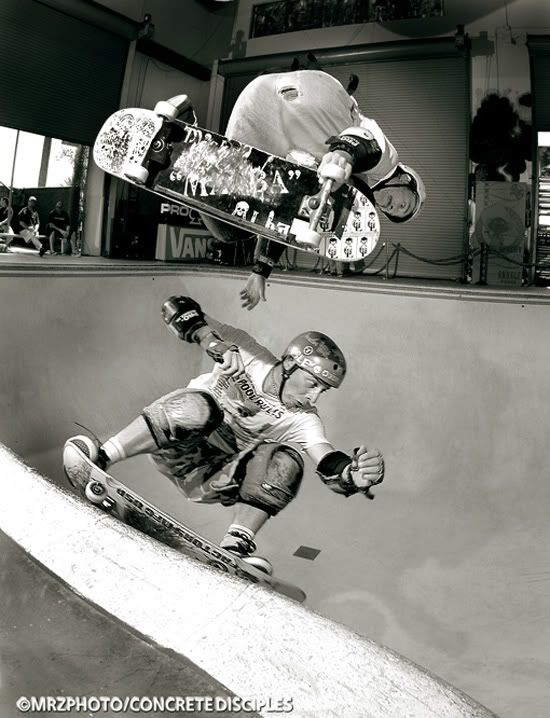 In 2007 The Alba brothers recreated some old Pipeline Combi magic.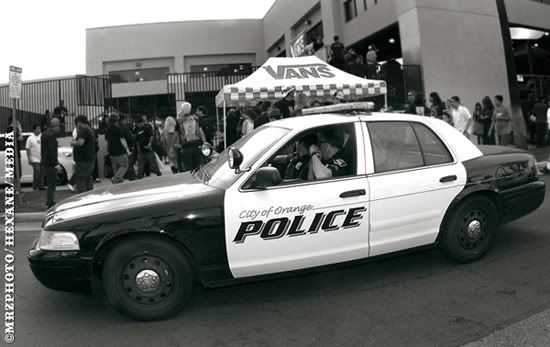 Cops.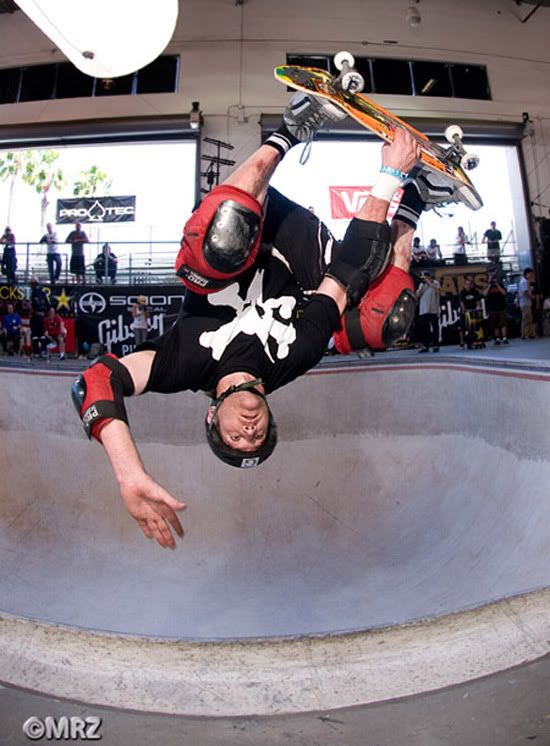 Ben Schroeder always makes the Masters Division event even more exciting. Dive Bomb Egg, 2008.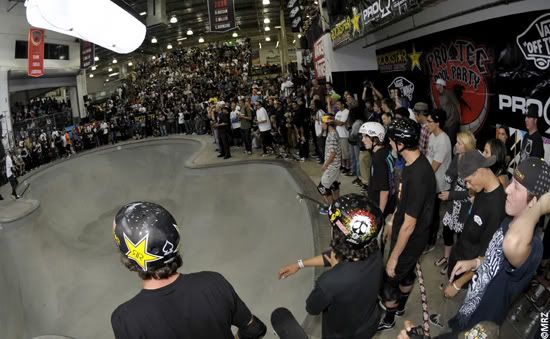 This bomb is about to detonate. Just seconds before the start of the 2010 Pro finals.
Wikipedia Don't Know Parties---
It is, and always has been billed as a "Pool Party". The best parties usually only occur once, and are so intense that invariably, police are called, houses are burned to the ground, and the general consensus is that once is enough, why try to duplicate the best thing ever, the party to end all parties? But this isn't Hollywood, in which the sequel(s) rarely ever approach the greatness of the original, where the movie is never as good as the book. In the case of the Vans Protec Pool Party, it just keeps getting better every year, or maybe it's that each year has been the best in it's own way. We've had clowns. We've had cops. We've had blood. We've had shards of glass raining down from above. We've had madmen in bikini briefs. We've had padless 540's. We've had near brawls and last-minute withdrawals. Longest boardslides and longest grinds for cash. We've had a few different winners, but nary a loser.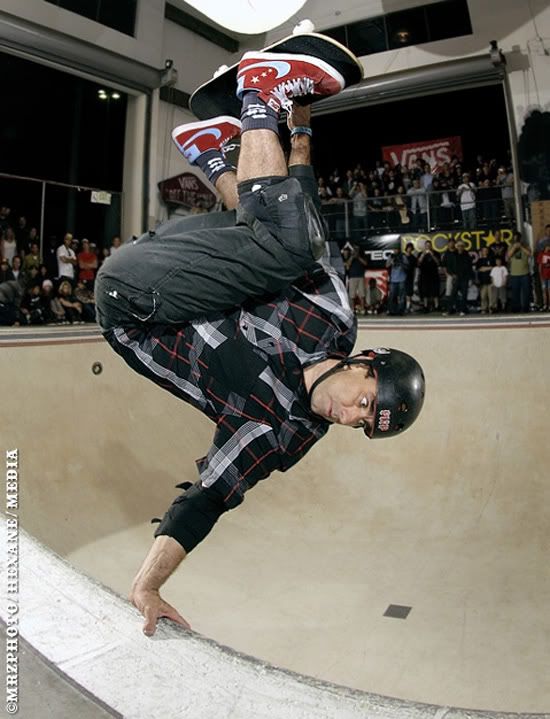 Lance Mountain is always a threat. Frontside invert, 2007.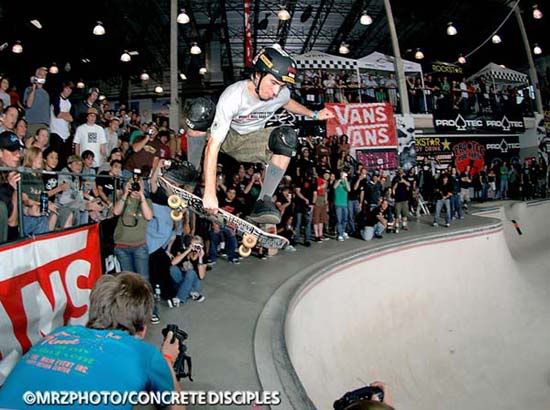 Forgettable guy, un-forgettable moment. Will Powers bombs in from the bleachers.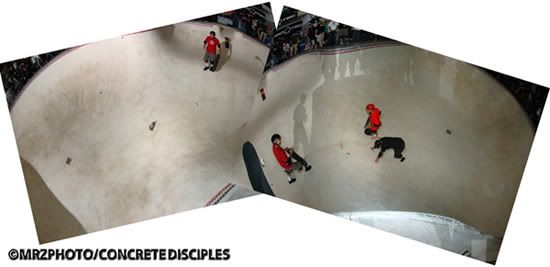 Steve Caballero and Lance Mountain got tangled up in the square one year. It gets dicey when guys are this hungry.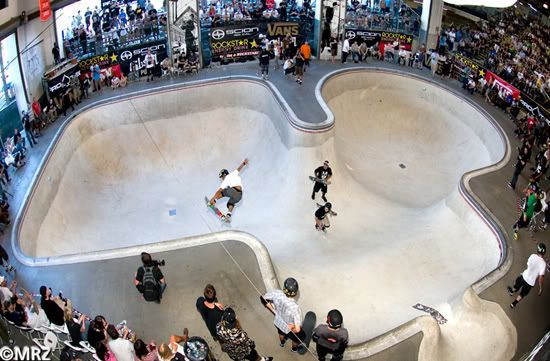 Overview, 2008.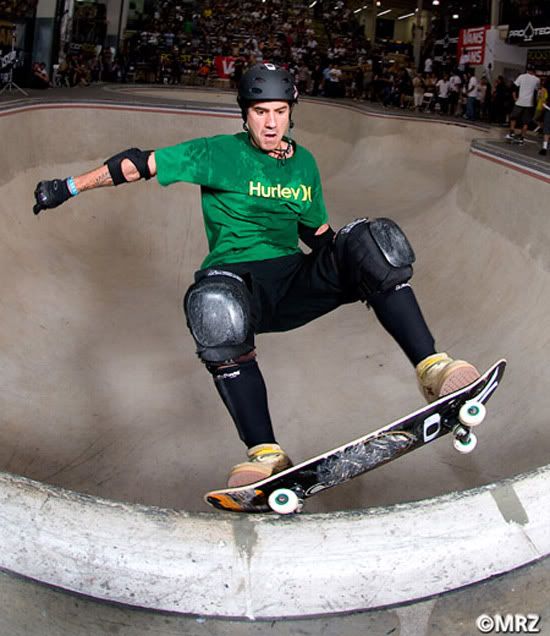 Bob Burnquist has always been in the top 5. Guess the trick and win nothing. 2008.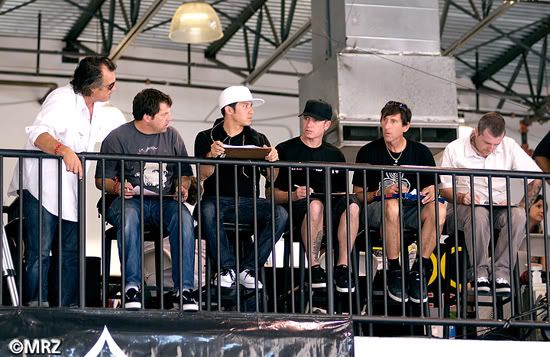 Eyes in the sky. The judges' crow's nest. Christian Hosoi has since traded his judges' seat for a rip ride in the Masters finals the past couple of years.
Sardine Politics With Perks.
It's always a packed house down here. A rabid crowd scene, fueled by endless supplies of free energy drinks and freshly grilled meat. Maniacs! If you have a ticket, you're one of the very lucky few. Seats are so coveted around the Combi, a buffoon in internetland may have been trying to sell counterfeit tickets via any number of web portals. Be warned, tickets just aren't for sale at any price. That's why there's a webcast. Ask yourself, would you rather miss the event, standing in the parking lot with a fake ticket in hand when you could be sitting at home, piping that blistering webcast through your 52 inch flat screen television and home theatre system, in your robe and slippers, with a refrigerator full of whatever you might be drinking? Yeah, I thought so.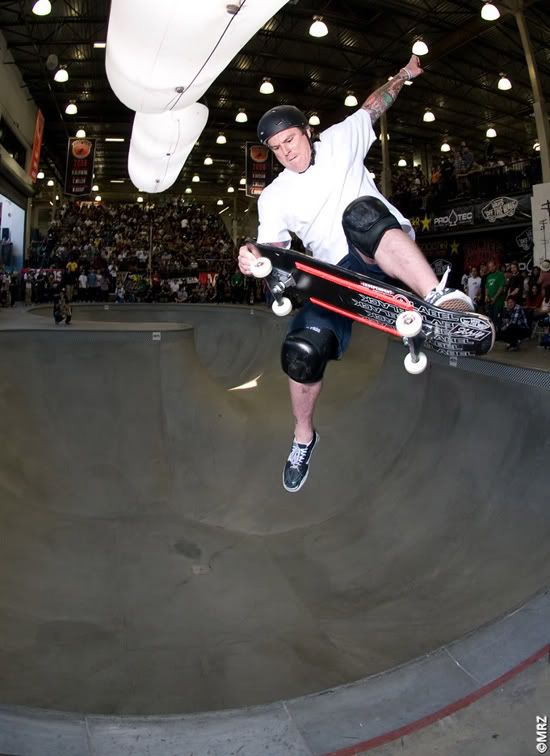 Jeff Grosso is a crowd favorite and a Masters contender. Madonna, 2010.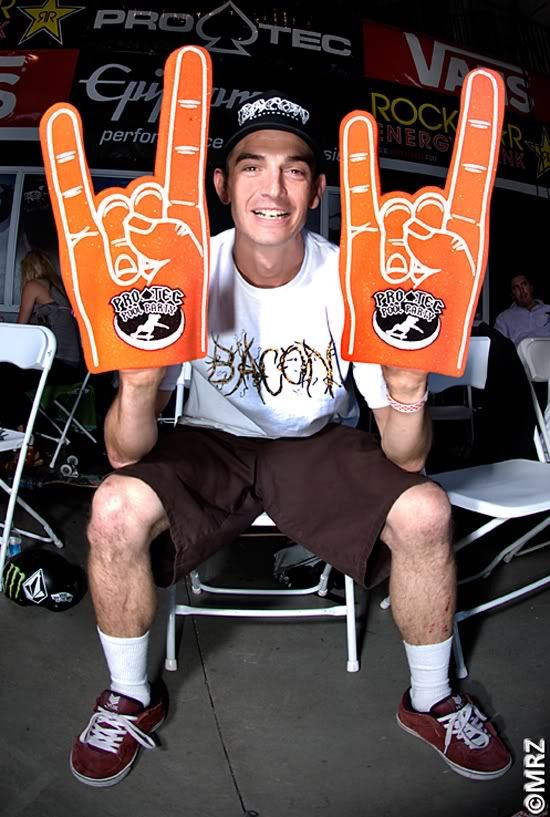 Tim Johnson is a huge fan.
All Danish, no cheese. Nicky Guerrero, sadplant, 2009.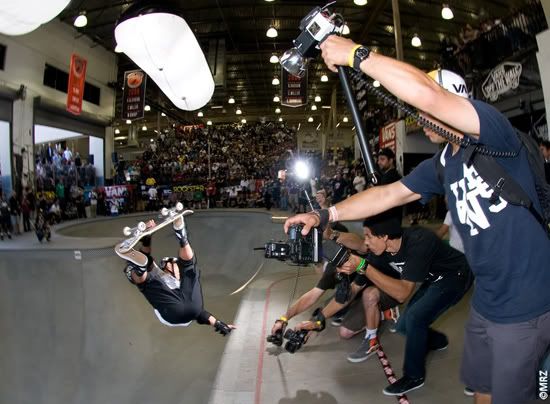 The decks are always thick with paparazzi. Lester Kasai gets his soul stolen.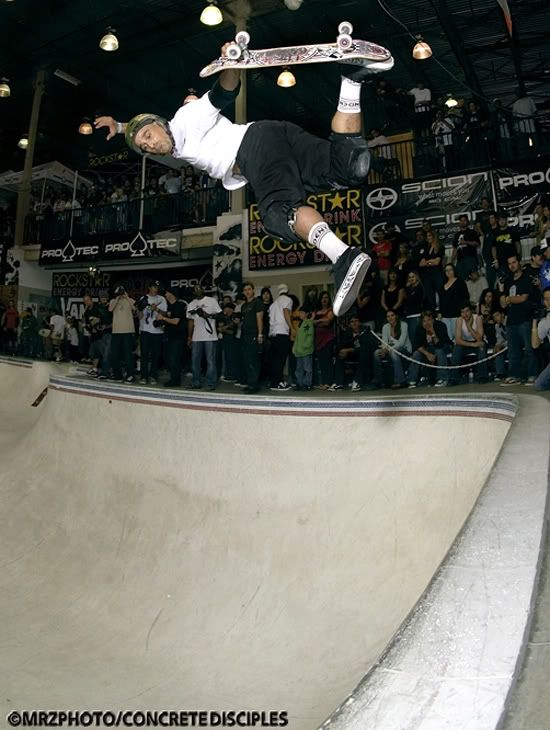 Omar Hassan has done it and won it before and he could do it again. Judo, 2007.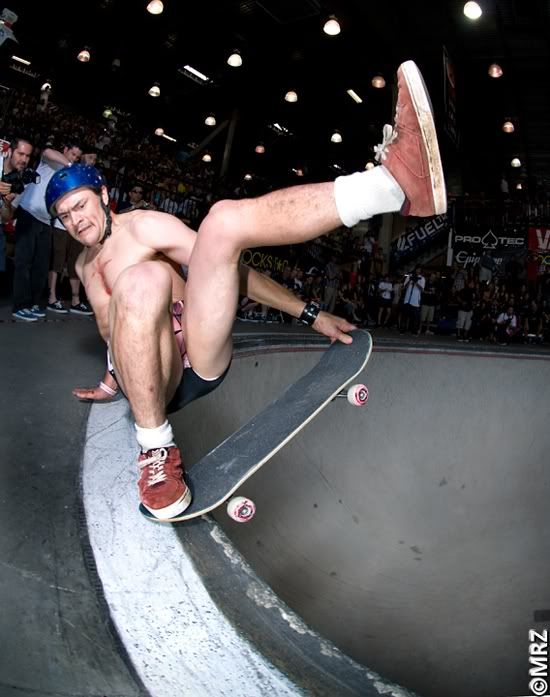 Ah, the spectacle! Red bringing the house down in 2009.
You'll Never Know Where You're Going But You Can Know Where You've Been---
It's safe to say there are some patterns to the Protec Pool Party. If you view the past results below, you can quickly see that the top Pros and Masters keep it tight. Chris Miller had been pitching a perfect game until Steve Caballero narrowly edged him out. Rune has been the most dominant of the Pros in the past, but Omar has taken one and could easily do it again. Unfortunately Bucky Lasek is sidelined this year with a broken ankle, so somebody is definitely moving up. Are we looking for a young renegade to jump onto the podium this year? Quite possible, and we'll have an in-depth look at some of the heavy young contenders here tomorrow.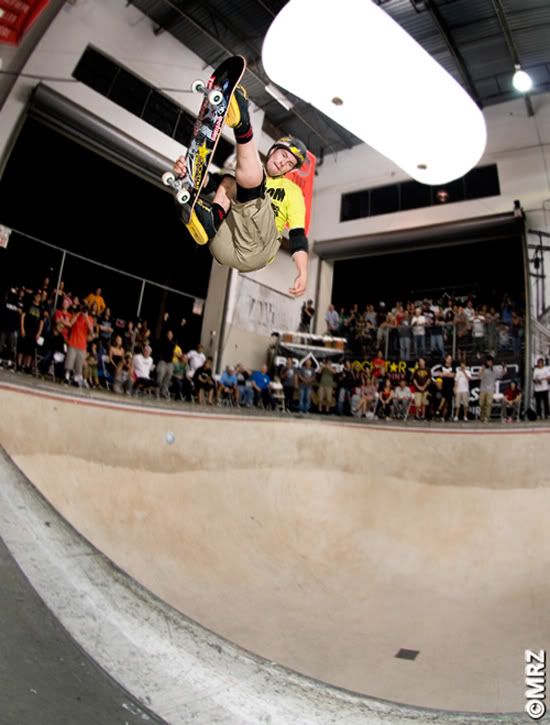 Rune Glifberg is always on the podium and he has 3 wins under his belt. Nosebone in 2008.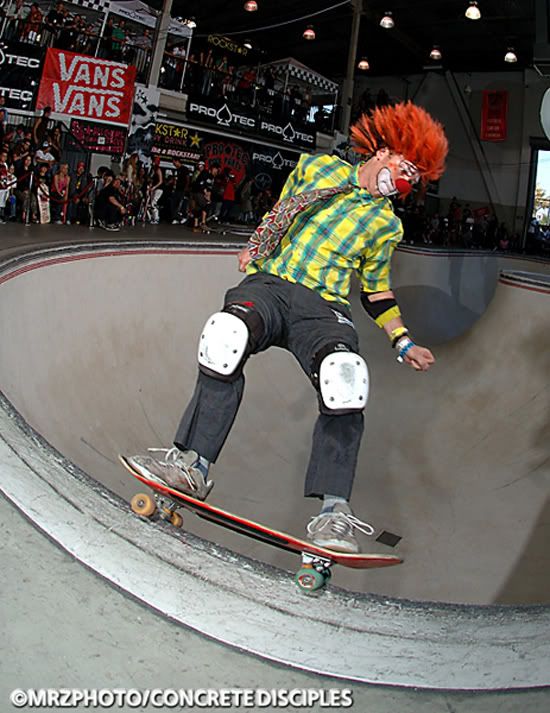 Comic relief. Children are often afraid of clowns. John Fudala brings the fear in 2006.
Another stuntman. This time it's Matt Boyster in 2009 and the Marshall Stack leap. Broken glass rained down from the light he destroyed when his board launched into the rafters.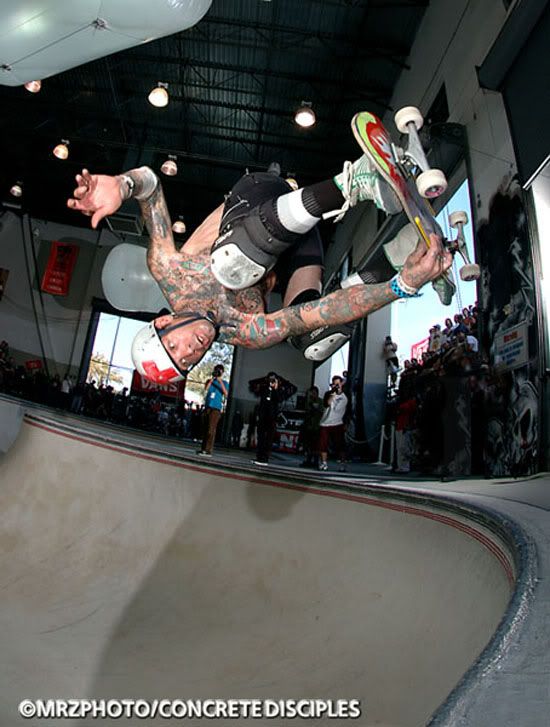 Always on fire, Duane Peters. Indy air, 2006.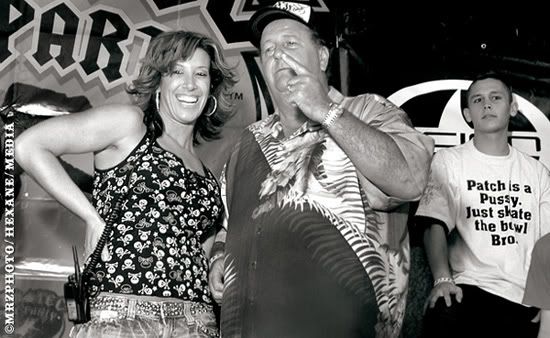 Christie and Steve Van Doren always throw the best party in the known universe!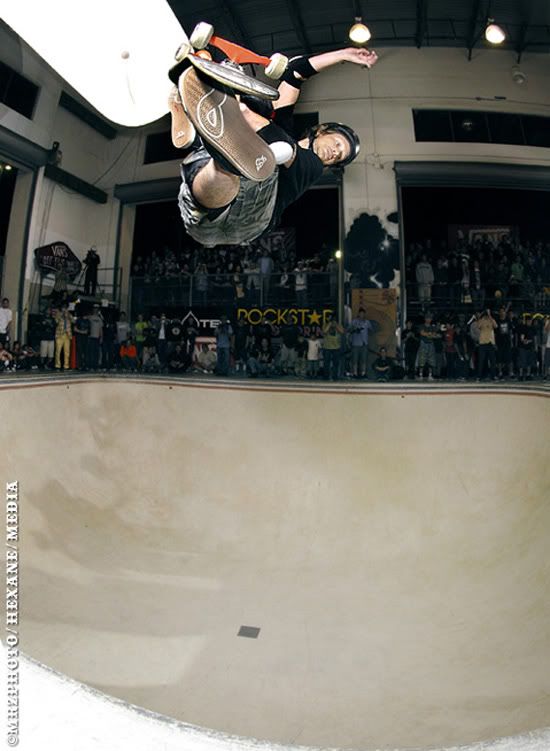 Chris Miller won the first 5. Lien crossbones in 2007.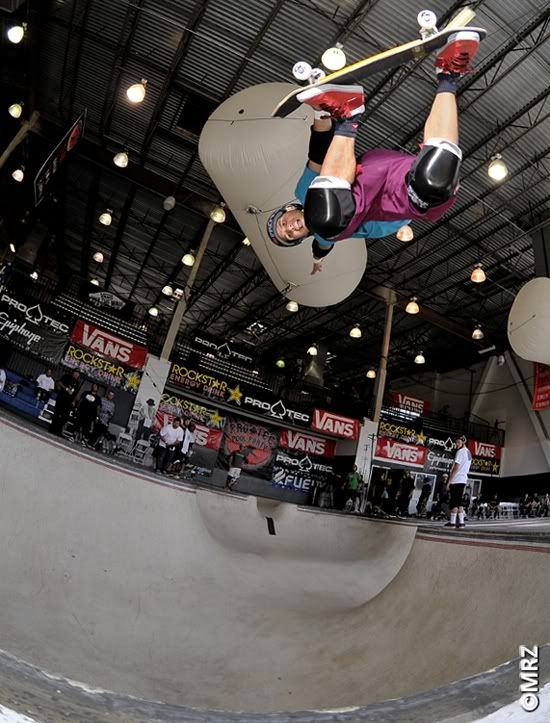 Christian Hosoi blasting off in 2009.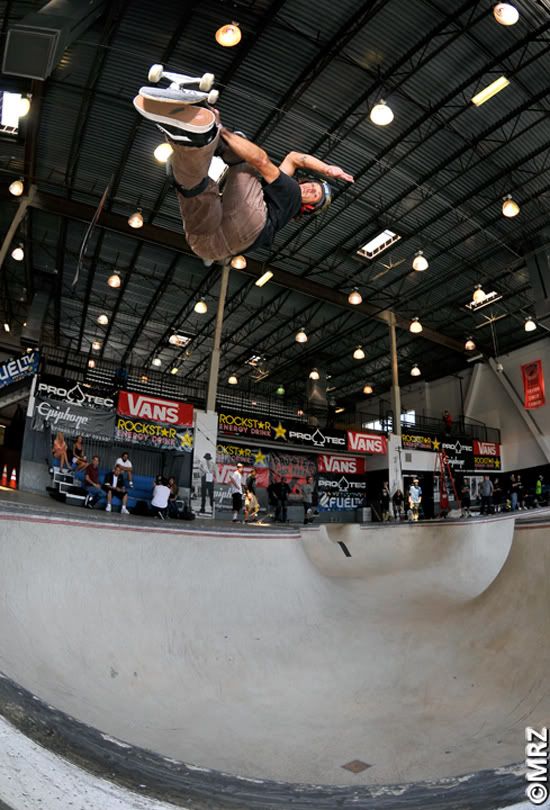 2009 and 2010 champ Bucky Lasek will have to sit this one out. This lien crossbones in the round in 2009 is just a glimpse of his genius.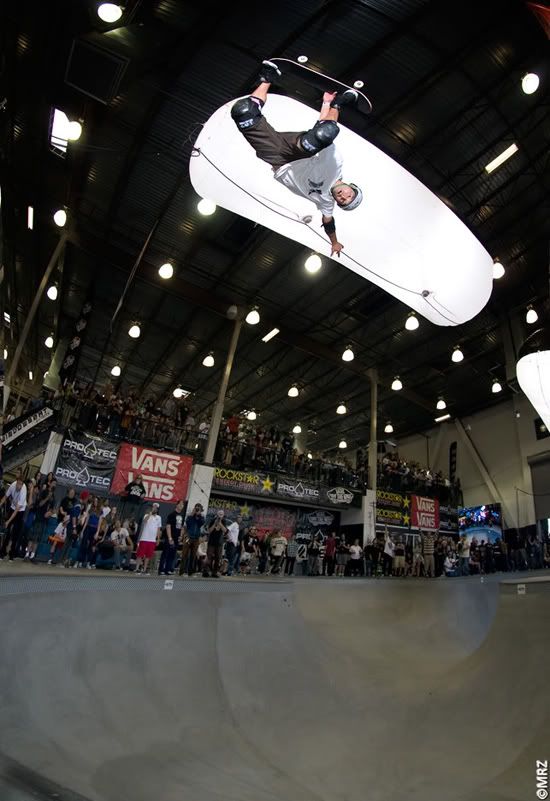 Lincoln Ueda is gunning for a top spot with his massive air attack. 2010.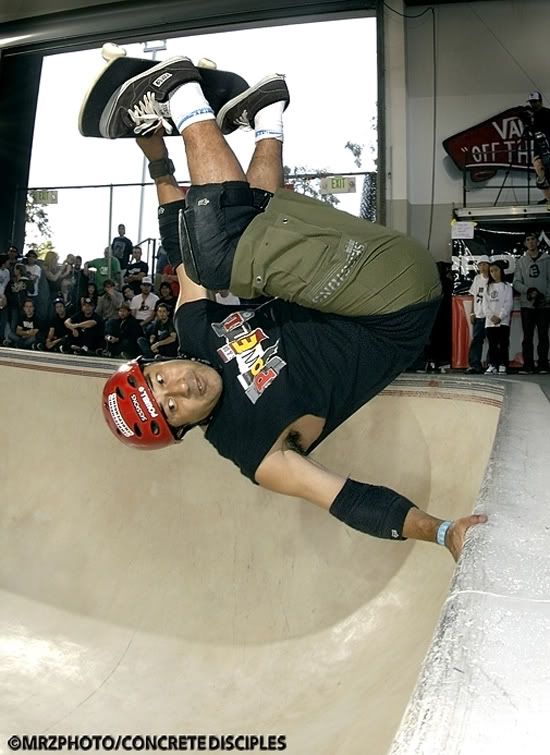 Cab battled Miller right down to the wire in 2010 and is your reigning champion. Frontal invert, 2007.
Is young Pedro Barros ready to hoist the 1st place guitar in 2011? Going large in his 2009 pro finals debut.
Bob in a meditative moment, the peaceful warrior.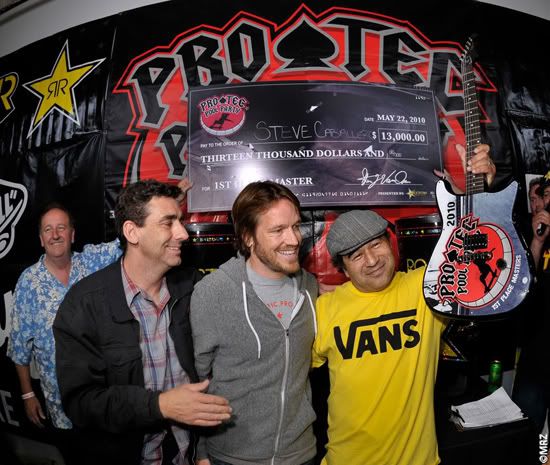 Masters top 3 in 2010. Lance Mountain, Chris Miller, and Steve Caballero.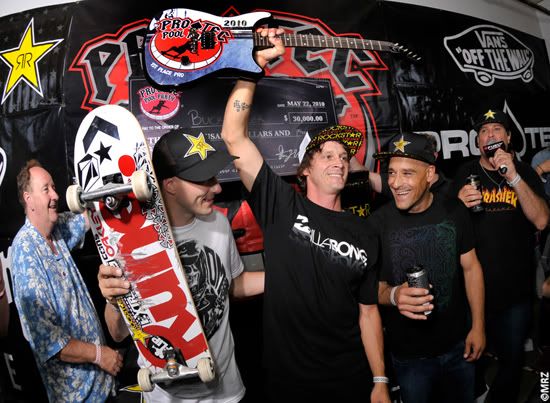 Pro top 3 in 2010. Omar Hassan, Rune Glifberg, and Bucky Lasek.
Here's a rundown of the top of the crop from all of the previous Vans Protec Pool Parties: 2005
Pro Division:
1. Rune Glifberg
2. Omar Hassan
3. Brian Patch
Masters Division:
1. Chris Miller
2. Jeff Grosso
3. Lance Mountain
Ladies' Division:
1. Cara-Beth Burnside
2. Lyn-Z Adams Hawkins
3. Mimi Knoop
2006
Pro Division: 1. Omar Hassan
2. Rune Glifberg
3. Brian Patch
Masters Division:
1. Chris Miller
2. Jeff Grosso
3. Steve Caballero
Ladies Division:
1. Cara-Beth Burnside
2. Mimi Knoop
3. Holly Lyons
2007
Pro Division:
1. Rune Glifberg
2. Bucky Lasek
3. Omar Hassan
Masters Division:
1.Chris Miller

2. Lance Mountain

3. Steve Caballero
Ladies' Division:
1.Carabeth Burnside

2. Lyn-Z Adams Hawkins

3. Mimi Knoop
2008
Pro Division:
1. Rune Glifberg
2. Omar Hassan
3. Bucky Lasek
Masters Division:
1. Chris Miller
2. Steve Caballero
3.Nicky Guerrero
Ladies' Division:
1. Mimi Knoop
2. Julie Kindstrand
3. Lyn-Z Adams Hawkins
2009
Pro Division:
1. Bucky Lasek
2. Omar Hasan
3. Rune Glifberg
Masters Division:
1. Chris Miller
2.Christian Hosoi
3. Nicky Guerrero
Ladies' Division:
1. Julie Kindstrand
2. Lyn-Z Adams Hawkins
3. Megan Brown
2010**
Pro Division:
1. Bucky Lasek
2. Rune Glifberg
3. Omar Hassan
Masters Division:
1. Steve Caballero
2.Chris Miller
3. Lance Mountain
**In 2010 the Ladies' Division was removed from the contest format.
Tune In Yesterday For Tomorrow's News--- Check in each day as we are just getting started. There will be plenty of pre-game around here including a full rundown on Thursday's pre-qualifier event which will set the final field for Saturday. GET HOT!!!
-BLKPRJKT